Embrace the Future of O&P Design
Design your Orthotics and Prosthetics using uFit, an innovative Blender addon exclusively crafted for O&P specialists.
Seamless workflow
Use any 3D scan
Guided modeling
Perfect prosthetic sockets
Empower your expertise, enhance patient comfort, and embrace cost-effective solutions with the first open source software of its kind.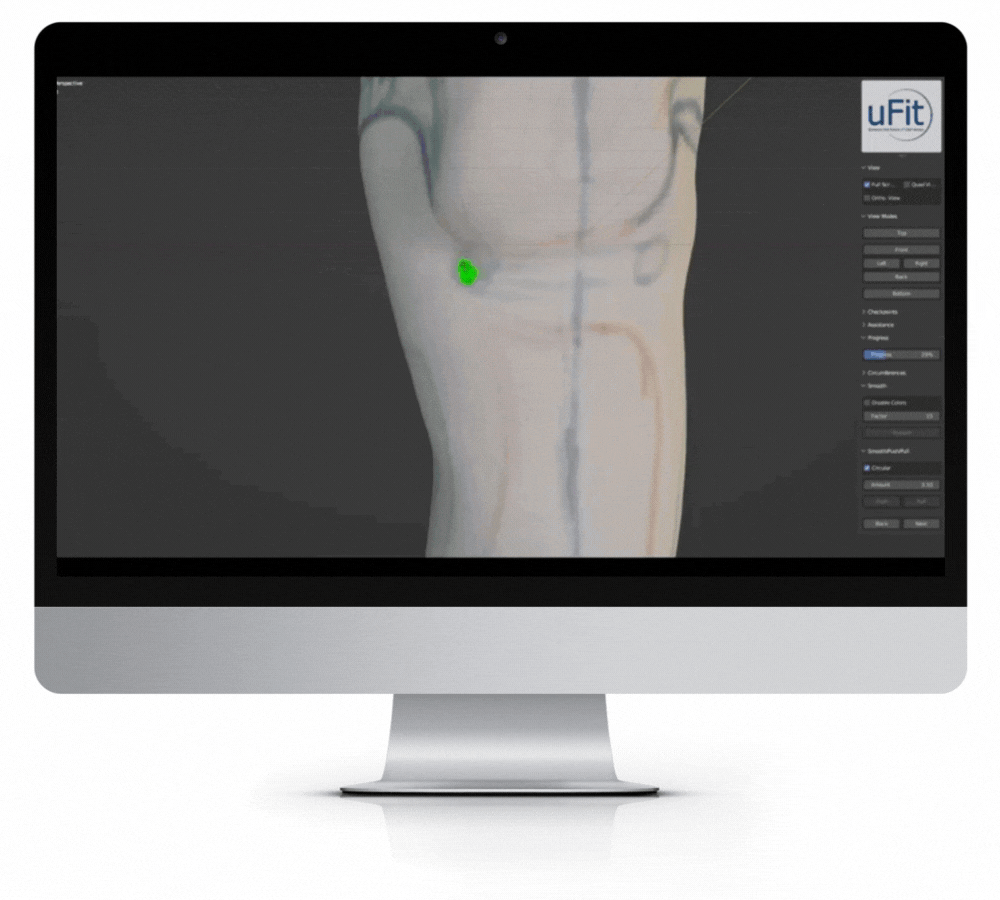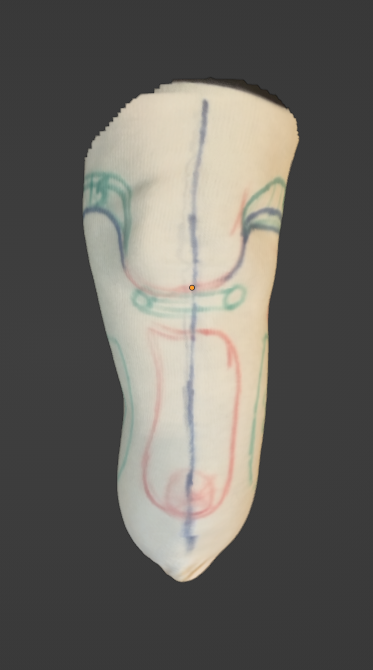 3D Scan Clean Up
Easily clean up any 3D scan as part of the uFit workflow.
Remove imperfections and noise from scan
Automated optimization of mesh quality
➡ Precise anatomical representation for an accurate and customized prosthetic fitting.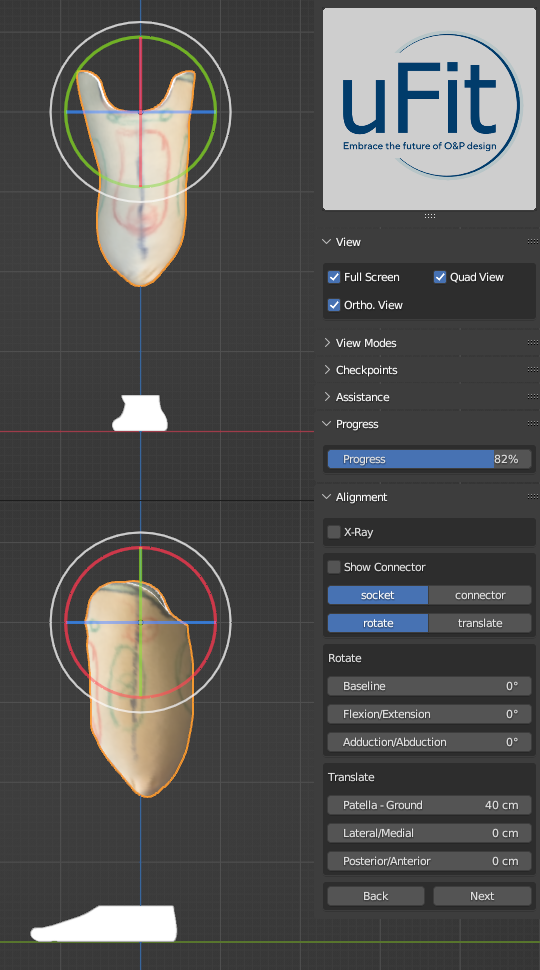 Step-by-Step Workflow
A user-friendly digital procedure to create prosthetic sockets.
Guided workflow
Intuitive process
Comprehensive instructions and tools
➡ From initial socket shaping to refining intricate details, uFit ensures accuracy and control throughout the entire process.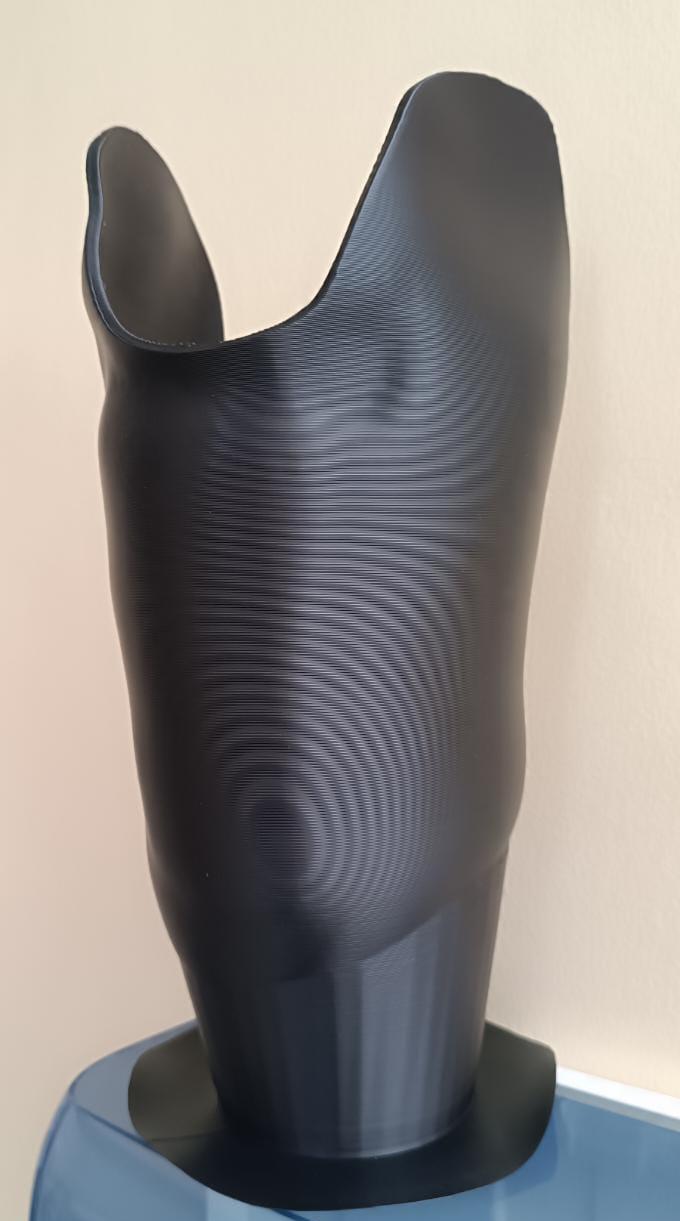 Streamlined 3D Printing
Easily transform your digital design into a real prosthetic socket using any 3D printer.
Export your 3D model to a universal STL file
Start a smooth and efficient 3D print


➡ uFit helps you transition from digital to a smooth and efficient 3D print.

We Welcome Collaborators!

At uFit, we believe in the power of collaboration to drive innovation and create positive change in the Orthotics and Prosthetics (O&P) industry. We are open to partnering with like-minded companies, organizations, and individuals who share our vision of revolutionizing O&P care.

User Testing
If you are an O&P specialist or have access to a network of specialists, we invite you to participate in user testing. Your valuable feedback and insights will help us refine and enhance the uFit addon, ensuring it meets the specific needs of the O&P community.

Financial Support
As a growing project, financial support is crucial for us to continue expanding uFit's capabilities and reach. If you or your organization is interested in providing financial aid or sponsoring specific development initiatives, we would be thrilled to discuss potential partnerships.
Development Contribution
If you have expertise in software development, 3D modeling, or related fields, we welcome your contributions to the further development of uFit. By joining our development team, you can help us introduce new features, improve functionality, and enhance the overall user experience.

Collaborative Projects
If you have an idea for a collaborative project related to O&P care, 3D technologies, or innovative solutions, we are open to exploring joint initiatives. Together, we can create impactful projects that push the boundaries of O&P design and positively impact the lives of individuals in need.

Double amputee

With his 2 sockets made in uFit, Steve is proudly walking and running with his high-quality prosthetics. The devices allowed him to go back to work, and take an active place in society again

Paralympian
Evans participates in the Paralympics for his home country Kenya, and is a happy user of a uFit socket, provided to him by Prothea Kenya